Excess and Abundance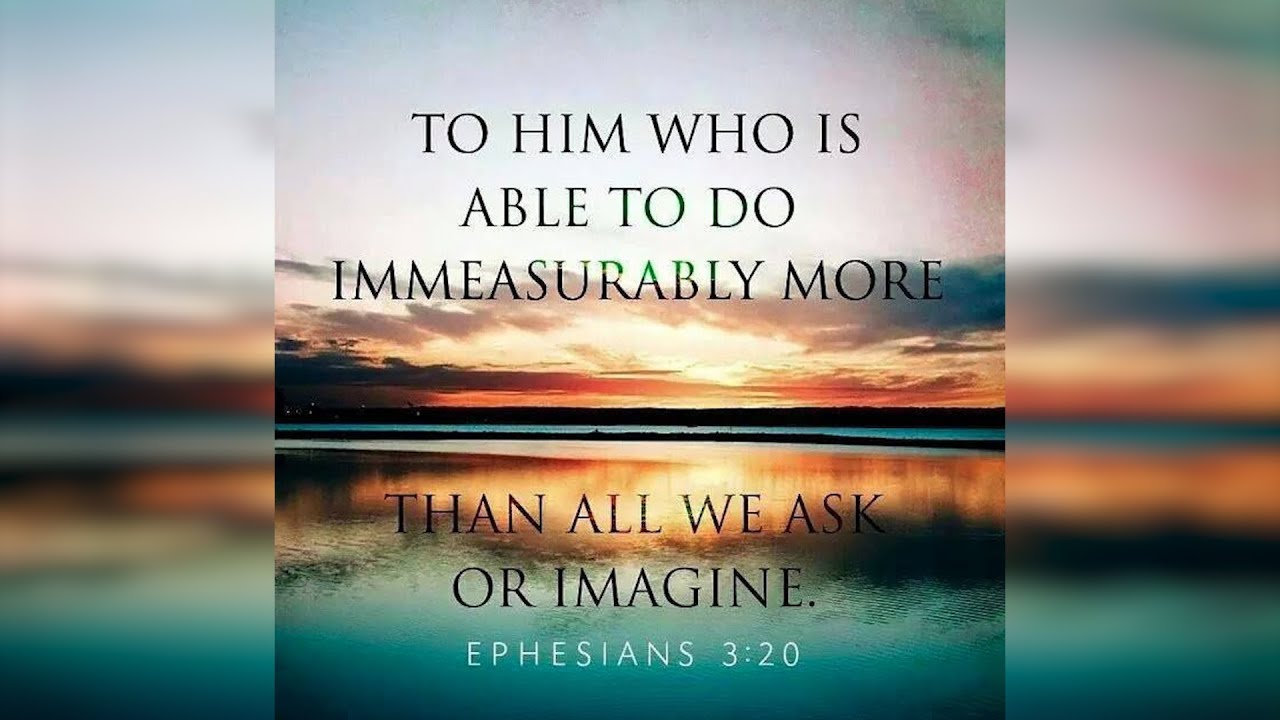 Ephesians 3:20-21
Introduction: John Lennon wrote a song just after he bought a new piano, spray-painted white, for his wife Yoko Ono's birthday. Soon afterwards, he wrote "Imagine" on it. "Imagine" was inspired heavily by Ono, who used the word in many of her 1960s conceptual art works.
Imagine there's no heaven, No hell below us. No religion.
I wouldn't encourage you to 'imagine' (form a mental image; think, believe, assume, suppose, guess or fancy) anything of the sort….but rather I'd encourage you to believe (to have confidence in truth, the reality of something, although without absolute proof (faith).
Verse 20-21 is the doxology (a hymn or form of words containing praise to God) having finished his short but wonderfully comprehensive and enegetic prayer.
He reminds the Ephesian church, and I remind you today that God is a good, wonderful and powerful Lord.
Application: I believe it was one of the Little Rascals, either Spanky or Alfalfa maybe who use to reply to certain things by saying, 'And how!' I know Buckwheat use to say 'Otay.'
'Do you know Mr. Alfalfa?' 'And How!'
[to do exceeding abundantly] It is impossible to express the full meaning of these words, God is omnipotent, therefore he is able to do all things, and able to do
huper ek perissou
, superabundantly above the greatest abundance. And who can doubt this, who has any rational or Scriptural views of his power or his love!
[All that we ask or think] We can ask every good of which we have heard, every good which God has promised in his word; and we can think of, or imagine, goods and blessings beyond all that we have either read of or seen: yea, we can imagine good to which it is impossible for us to give a name; we can go beyond the limits of all human descriptions; we can imagine more than even God has specified in his word; and can feel no bounds to our imagination of good, but impossibility and eternity: and after all, God is able to do more for us than we can ask or think; and his ability here is so necessarily compacted with his willingness, that the one indisputably implies the other; for, of what consequence would it be to tell the church of God that he had power to do so and so, if there were not implied an assurance that he will do what his power can, and what the soul of man needs to have done?
[According to the power that worketh in us] All that he can do, and all that he has promised to do will be done according to what he has done, by that power of the Holy Spirit teen energoument which worketh strongly in us-acts with energy in our hearts, expelling evil, purifying and refining the affections and desires, and implanting good. 
Conclusion: I think it necessary to remind us of the context of Paul's writing. He is in prison!
But God's Word, ways and truths can never be measure or locked up!
Participation
Introduction: Week Two. Preparation. Question: Have you ever wondered what Mary / the Virgin Mary did in preparation for what the angel pronounced to her about being with a child? Luke 1:3, 'You will conceive and give birth to a son, and you will name him Jesus'. (NLT) I will get to Mary and that…